Centrifuges

Since 1995, Kayden Environmental Services has been designing, manufacturing, operating and selling centrifuges throughout the world. Kayden has developed a centrifuge that can withstand the harshest operating environments around the globe and proudly manufactures all equipment in North America. These high capacity centrifuges coupled with high torque gearboxes and variable speed control creates an increase in retention time and ultimately maximizes solids and liquid separation.
Kayden currently offers the Predator-2072 and Mammoth-2276 for rent, lease, or purchase.
Kayden Environmental Services' centrifuges will continue to attract high demand as the solid separation industry requires higher processing capacities with increased operational complexity and environmental considerations. With reliability as a company goal, Kayden has been able to build centrifuges with a low total cost of ownership, and ensure owners of Kayden centrifuges long-term profitability.
Predator 2072
(530GPM)/(2000 L/MIN)
The North American made Predator-2072 is the ideal centrifuge for use in the solid separation industry. First developed in 1996, it has consistently outperformed competitors in head to head testing around the globe.
To complement the Predator-2072's larger bowl is an 80:1 ratio gearbox. This gearbox creates an output of 63,000 in/lbs. The design of the Predator-2072 translates into a higher volume of solids removal from the fluid. The 6-degree beach, which is one of the longest in the solids control industry, allows for maximum drying time of the centrifuge cuttings before being discharged from the machine.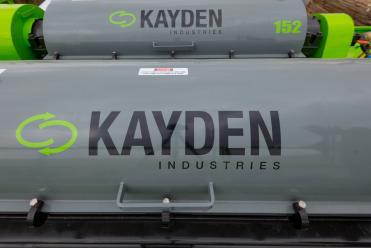 Mammoth 2276
(660GPM)/(2500L/MIN)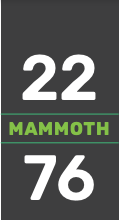 The North American made Mammoth-2276 is Kayden's flagship centrifuge. With a proven track record in the harshest environments around the world, and more than 125 in use today, this high volume centrifuge continues to be the choice for Kayden and many across the globe.
To complement the Mammoth's larger bowl is a 96:1 ratio gearbox. This gearbox creates an output of 175,000 in/lbs., which is far superior to the industry average. Ultimately the Mammoth gearbox facilitates an increase in the volume of solids that can be removed.